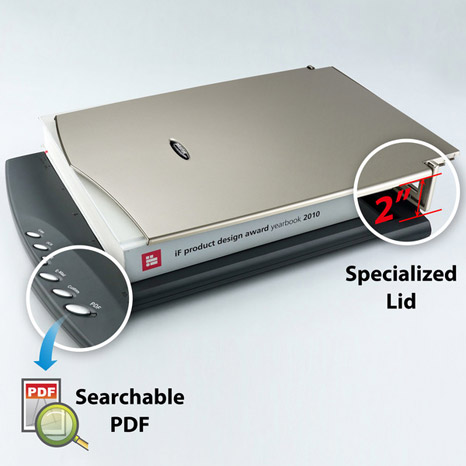 Color Flatbed Scanner- Compact and Unsurpassed Image Quality
A flatbed scanner without extra adapter, No warm-up time is needed.
Support TWAIN protocol which enables thousands of image applications.
With high performance of image processing, software can Auto Rotate, Deskew and Crop image. Help user save time and get the better picture.
OS2610 scanner can help you work efficiently with 5 one-touch buttons that enable you to Scan, Copy and send directly via E-mail.
With Specialized Lid Design, OS2610 helps you easy to scan large items such as personal notebook or thick document.
Scanner support Operating Systems - Windows XP/Vista/7/8/10/11. User can download the latest version on Plustek website.
A scanner for easy-to-use scanner to digital your paper and documents
Plustek Opticslim 2610 is a Light , Slim type and no extra power adapter scanner. Scan letter-sized documents in just 15 seconds (@200dpi, Color Mode, A4). Buttons utility make scanning directly to computers, PDF or edit with a word processing program sample.
The scanner is only 1.3" in height and 3.1lb in weight; it can easily pack with a laptop in your briefcase. With Special designed hinges with Lid, scan thick book make easier. Capable of 1200 dpi optical resolution and 48-bit input color, the OpticSlim 2610 always makes your work sharp and vivid.
Operating Systems: Windows XP / Vista / 7 / 8 / 10 / 11 and support TWAIN.
User can download scanner driver in Plustek website without install by optical drive.
− Enhanced Image Processing −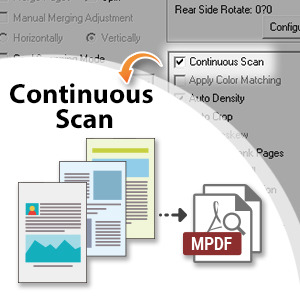 Multi-Pages Scanning
Scanning multiple document pages into a single PDF file: You can scan multiple document pages and save them in a single PDF file.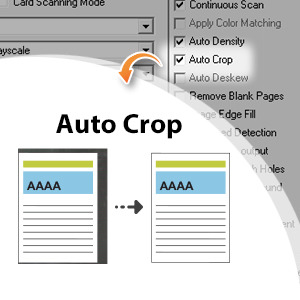 Auto Image Cropping
Black border cost file size bigger and unsightly. With Auto Crop feature, it can remove the black boarder when scanning.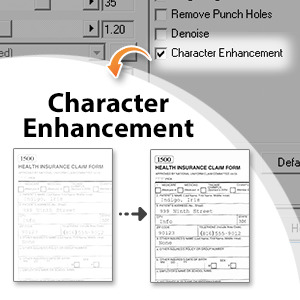 Character Enhancement
Improves accuracy during OCR (Optical Character Recognition) scanning by eliminating the document's background from the scan. This setting is available only when the Image Type is set to Black & White.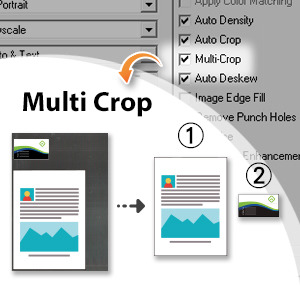 Multiple Cropping
With this feature, various sizes of documents such as photos, ID Cards, or business cards can be placed on the flatbed and the scanner is able to crop and create multiple images according to the original sizes of the documents in one single scan.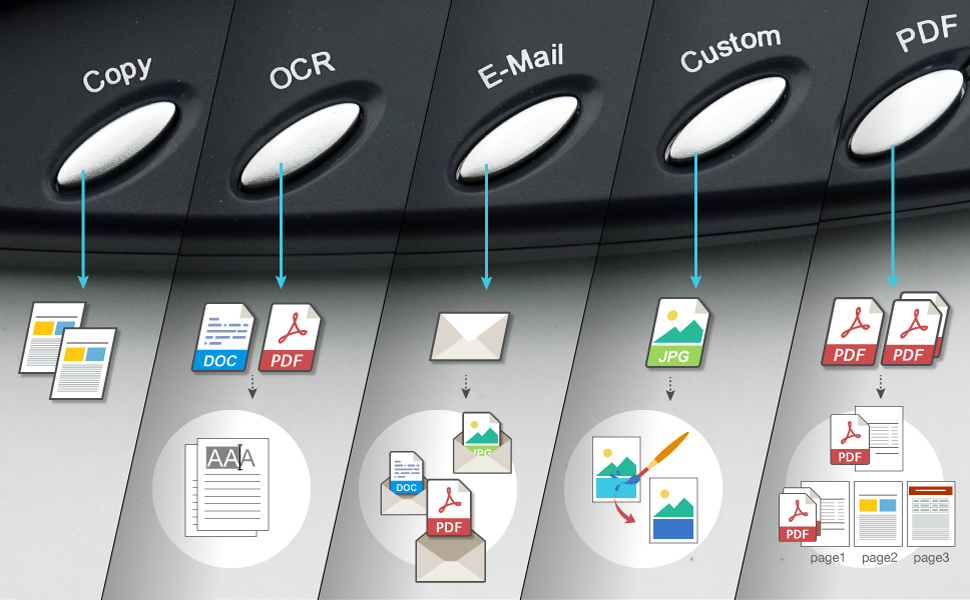 Buttons Utility
Copy: Scan image directly to the printer without saving them to your storage device.
OCR: You can scan a document and convert the text into a format that you can edit with a word processing program or create a searchable PDF file. This process is called OCR (Optical Character Recognition).
E-Mail: With this utility, you can scan image and documents directly to your default folder. The resolution default is 200 dpi, make image small and easy attachment. Software default Windows Outlook.
Custom: You can add an application in this utility, like MS paint or Photoshop. Or set a FTP folder to upload the file.
PDF:Convert images of text document created by scanner into searchable PDF or image PDF file.

Multiple Ways to Use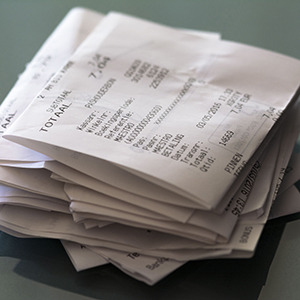 Receipts
Scan and save receipt by searchable PDF format, Categorize expenses through relevant keywords.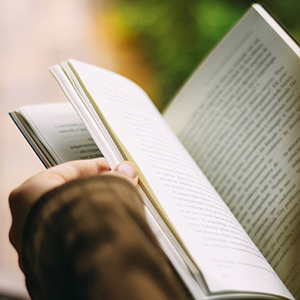 Thicker Books
With special design Lid, easy to scan books and save by PDF foramt or edit in Word processing program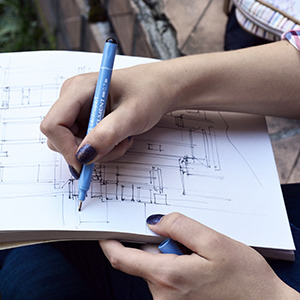 Handwritten paper
Scan handwritten paper/notes and save or share to other people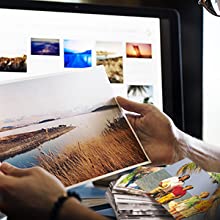 Photograph
Easy to scan your treasure and edit it. You can scan and share to Picasa or edit on Photoshop.