Job Menu: Scanning with Job Buttons…
Maximum control and productivity, the eScan Job Menu does just that. One touch operation Job Buttons can be created for more effective scanning tasks. Each button contains pre-configure lock-down profile scan settings, including scan modes in simplex or duplex, color or gray scale, resolution, format, and more importantly the destination where the scan will upload to making routine scanning tasks easier with a tap of a button!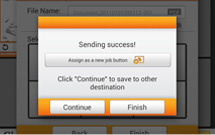 Assign as a new job button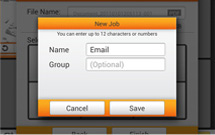 New job button name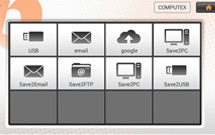 Shortcut Job Button from Job Menu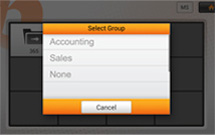 Select Group
The new Job Menu increases user friendliness and simplifies the work routine
Users can choose between the Main Menu and Job Menu. Group scan profiles under the Job Menu as a shortcut. Multiple groups can be created allowing one to maximize the device. Each group can hold up to 12 Job Buttons, naming of each button and group are easily configure during the scanning process. Straightforward. No gimmick.